Special Events
From Library Openings and Olympics to Presidential Inaugurals

Venue Finding
Invitation Design, Printing and Mailing
Management of RSVP Database List
Security
Catering
Rentals
Entertainment
Logistics Management
Hospitality & Registration
---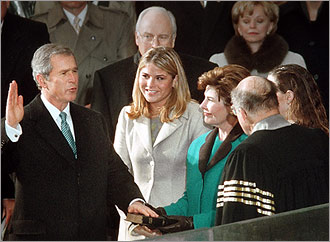 George W. Bush: The 43rd President
George W. Bush takes the oath of office, administered by Supreme Court Chief Justice William Rehnquist, to become the 43rd president of the United States. His wife, Laura, holds the same Bible used by George Washington.
Charmaine and Liliana Wilkerson of And Here's Lilly contracted by Operation Hope to be the Event Management team for their "Inner-City Economic Summit", with special guest Vice-President Al Gore.
Assisted in directing logistics and protocol for gala sit-down dinner for 3,000 guests and served as Academy of Television Arts & Sciences representative for the caterer. Responsible for directing catering managers to ensure proper service to Academy guests.
As food and beverage management for the Rose Bowl Games, we were responsible for the FIFA WWC Executives and staff venues which included over 2,000 people. Oversaw twenty volunteers to ensure proper and expedient service was provided, including the most important participants, the players.
Responsible for managing the major donors VIP reception, the night previous to the event. On the day of the event assisted with managing the logistics for over 300 volunteers in guiding and directing them on their responsibilities.
We assisted the PIC (Presidential Inaugural Committee) in the Presidential Inaugural Gala for 18,000 guests ensuring the VIP's such as cabinet members, members of congress, executives in media, and major donors had flawless service in their dining rooms by overseeing all aspects of the service, including presidential protocol.
We were responsible for supervising the food and beverage service in the private Executive Suites at $230,000 each for the eight games at the Rose bow. Ensured executives and their guests the first class service and foreign protocol by efficiently managing wait-staff.
As floor management of the largest inaugural sit-down gala dinner for 3,000 guests at $25,000 per table, we were responsible for coordinating 70 volunteers to provide proper and smooth logistical crowd control. Served as liaison between Inaugural Committee and caterer to oversee every step of entire event including directing a wait-staff of 400.
Served as Operations Management of 25 festival food vendors overseeing that the trucks and stands were set-up properly with all necessary equipment by managing twenty volunteers. Coordinated with each vendor the menus they were serving to ensure international flavors.
We were the board deciding which catering company would be awarded the bid for the five-day event to service over 5,000 guests for the historical event where the five Presidents and their First Ladies would meet for the last time. We were the liaison between the advance team and the caterer to provide professional coordination of each step of this historical event. We managed each catered event from a breakfast of 2,000 major donors to the historical private luncheon for the five principals and VIP guests.
Organized and supervised food and beverage staff for several hospitality suites both at the Coliseum and in corporate facilities downtown. We were responsible for providing outstanding executive services for over 10,000 guests during the two-week event.

CORPORATE REFERENCE LIST
ABM
ARCO
AmericanTours International
Arthur Andersen LLP
Bank of America
Bank of Montreal
Capital Group
Carlsmith & Ball
City National Bank
Cohen Financial
Cushman & Wakefield
Dai-Ichi Kangyo Bank of California
Dean Witter
Economic Development Corporation
Ernst & Young LLP
Freida's Inc.
General Re-Insurance
Golin-Harris, Chicago
Innova, Ames, Iowa
Kelly Drye & Warren
Mellon First Business Bank
Metropolitan Water District
Milbank & Tweed
National Association of Women in Business - Los Angeles Chapter (NAWBO-LA)
Nations Bank
Pepperdine University
Pretty, Schroeder & Poplawski
Sedgwick, Detert, Moran & Arnold
Scudder Kemper Investments
Times-Mirror Company
Union Bank of California
UNOVA, Inc.
Whitman, Breed, Abbot & Morgan

[ Home ]
[ Up ]
[ More Special Events ]
[ More Special Events ]
[ Malibu Gala ]
[ Beachfest ]
[ Beachfest ]
[ Beachfest ]
[ Executive Dining ]
[ Executive Dining ]
[ Halloween Haunting ]